Handing-Taking Over Ceremony of High-end Endoscopy Machine
27 March 2023; JDWNRH-Thimphu
Oita-KGUMSB Gastric Cancer Collaborative Project supported by
JICA-SATREPS Project
In August 2022, KGUMSB and Oita University launched SATREPS (Science and Technology Partnership for Sustainable Development) project supported by JICA and Japan Agency for Medical Research and Development (AMED). This project is titled "The project for institutional capacity building for eliminating Helicobacter pylori related deaths in Bhutan", with the support and partnership of JDWNRH, Royal Centre for Disease Control (RCDC), and other 8 Japanese hospitals and universities.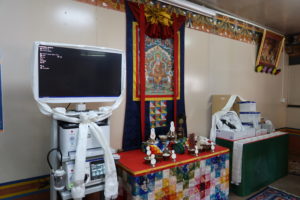 This 5 years SATREPS Project worth approximately USD 3.3 million aims to enhance the endoscopy skills of Bhutanese doctors conducting endoscopy through the provision of high-end equipment and training, establish a rapid diagnosis kit production facility for H. pylori at RCDC, conduct whole genome sequencing and the drug resistant characteristics of H. pylori, develop research capacity on gastric cancer, and conduct community-based study on awareness on H. pylori and associated gastric cancer prevention measures, including efficacy of the triple therapy regimens.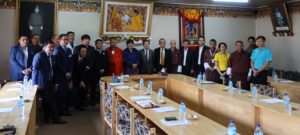 Under this project, Oita-KGUMSB collaborative project funded by JICA SATREPS grant is donating High-end Gastroscope Endoscope Machine Set (along with complete accessories) to JDWNRH. This equipment will greatly enhance the capacity of detection of early gastric cancer and treatment, and thus prevent and reduce the mortality associated with gastric cancer in Bhutan. The gastroscope has a feature for enabling endoscopists to examine virtual histology of stomach lining, thus providing high accuracy of detecting early gastric cancer. The machine set costed approximately USD 80,000. The handing-taking over ceremony will be followed by 1.5 days of training of Bhutanese master trainer endoscopists by a world's leading and renown Japanese endoscopist, Professor Kenshi Yao of Fukuoka University Hospital.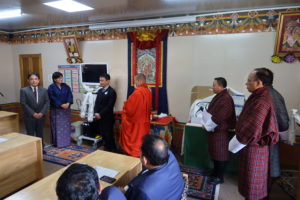 Furthermore, SATREPS project will support the Bhutanese Gastroenterological Endoscopy Society and foster endoscopy and medical facility development for detecting early gastric cancer and treatment. The project will also develop a guideline document for H. pylori diagnosis, treatment, early gastric screening, and elimination of H. pylori associated gastric cancer in Bhutan.
For more information contact:
Sithar Dorjee, Director General/CO-PI, KGUMSB (s.dorjee@kgumsb.edu.bt,179547143)
Dr Guru Prasad Dhakal, Dean/CO-PI, FOPGM, KGUMSB
Dr Sonam Wangchuk, Head/CO-PI, RCDC, MoH
Omae Mio, Representative, JICA Bhutan Office (Omae.Mio@jica.go.jp, 17122898)