MoU Signing Between Khesar Gyalpo University of Medical Sciences of Bhutan and Oita University of Japan
AND
SATREP-AMED Gastric Cancer Project Kick-off Seminar
 Press Release
August 29th 2022
Venue at Conference Hall of KGUMSB
 Ceremony for Memorandum of Understanding between Khesar Gyalpo University of Medical Science of Bhutan and Oita University (Japan):
The launching event was graced by Dasho Dechen Wangmo, Minister of Health, President Dr Kinzang P Tshering of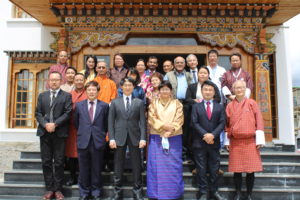 Khesar Gyalpo University of Medical Sciences of Bhutan (KGUMSB), President Dr. Seigo Kitano of Oita University, the Chief Representative of JICA Bhutan, Officiating Secretary of Ministry of Health, Deans, Directors from Ministry of Health, Jigme Dorji Wangchuck National Referral Hospital (JDWNRH), KGUMSB, senior management and focal officers from Faculty of Postgraduate Medicine,Gross National Happiness Commission, National Gastric Cancer Flagship,JDWNRH, Program and Royal Centre for Diseases Control (RCDC).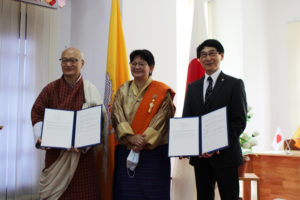 Dr. Kinzang P. Tshering as President of Khesar Gyalpo University of Medical Sciences of Bhutan and Dr. Seigo Kitano as the President of Oita University, are strongly engaged in academic and student exchanges, and collaborative research projects. This MOU is the memorable 100th International MOU for Oita University in the field of not only in medicine but also in the students exchange program and the related international affairs. Oita University has advantages in the field of gastrointestinal endoscopy and scientific research of Helicobacter pylori (H. pylori) which is the main cause of the stomach cancer in Bhutan, Japan and other countries.
Dr. Seigo Kitano has been appointed a President of The Asian-Pacific Society for Digestive Endoscopy(A-PSDE) and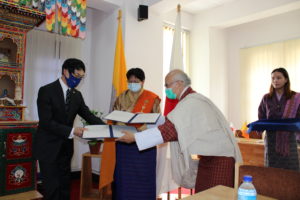 Asian Medical Education and Training Support (AMETS). A-PSDE has welcomed Bhutan Society for Gastrointestinal Endoscopy last year with the councilor Dr. Lotay Tshering, the Hon'ble Prime Minister of Bhutan. A-PSDE and AMETS will cooperate and assist Bhutan society to proceed with the training of young endoscopists in many aspects.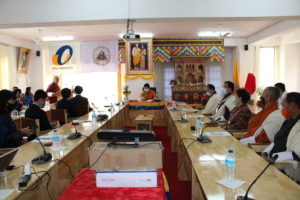 This MOU will be the great opportunity to deepen and expand cooperation between the universities and Ministry of Health in many fields and exchange our cultural and academic information between us in the coming future.
History of Oita University and Bhutan; Prof. Yoshio Yamaoka (Oita University) and Hon'ble Prime Minister Dr Lotay Tshering, the endoscopist in Bhutan, have worked together on research of H. pylori and gastric cancer in Bhutan since 2010.
Science and Technology Research Partnership for Sustainable Development (SATREPS) project: In March 2022, KGUMSB and Oita University launched SATREPS project supported by MoH of Japan and JICA. This project is titled "The project for institutional capacity building for eliminating Helicobacter pylori related deaths in Bhutan", with the support and partnership of RCDC, JDWNRH and other 8 Japanese hospitals and universities.
This 5 years SATREPS Project aims to establish a rapid diagnosis kit (~15 mins) for H. pylori at RCDC and provide the in-house manufacturing capacity for this diagnosis kit through capacity development of RCDC. Also, through an implementation of a platform of genomic analysis and increasing skills of researchers, a rapid antimicrobial susceptibility testing (AST) will be establish against Antimicrobial resistant H. pylori.
Furthermore, SATREPS project will support the Bhutanese Gastroenterological Endoscopy Society and foster endoscopy and medical facility development for detecting early gastric cancer and treatment. The project will also develop  a guideline document for for H. pylori diagnosis, treatment, early gastric screening, and elimination of H. pylori associated gastric cancer in Bhutan.
Finally, SATREPS project will conduct a nationwide surveillance (targets approx. 160,000 population) on H. pylori infection using their innovations; rapid diagnosis kit, rapid AST and mobile app etc. Understanding the prevalence and the compliance rate of triple therapy medication is necessary to provide a roadmap for elimination of H. pylori infection from Bhutan. The local citizens' awareness and understanding about the importance H. pylori treatment to reduce the risk of gastric cancer is necessary to achieve the elimination goal. Therefore, advocacy and education on H. pylori associated gastric cancer prevention will be conducted to the general public. In this way, the collaborative SATREP project will compliment the on-going National Gastric Cancer Flagship program in Bhutan.
For more information contact: