A two-member delegation from Khesar Gyalpo University of Medical Sciences of Bhutan attended the Project Meeting of the project 'Strategic Support for Accreditation of Programs and Internationalization at South Asian Higher Education Institutes (SSAPI)' at Maldives hosted by the Villa College and Maldives National University 5th to 9th February 2023. The project was funded by the European Union under Erasmus+ Capacity Building in Higher Education.
Other universities who joined the consortium came from Royal University of Bhutan, University of Bremen, Germany, University of Evora, Portugal, three Universities from Pakistan and two Universities each from Maldives and Sri Lanka.
The main objectives of the meeting were:
Review and finalize the first year Project Progress Report.
Review and finalize first year Financial Statement Report.
Review quality plan of the project.
Plan the activities for project year 2023 to 2024.
Experience sharing on program accreditation and internationalization.
Project Meetings
Besides the general meetings on accreditation of programs, knowledge sharing on internationalization and guided educational tours, the following bilateral meetings were conducted to achieve the objectives:
Two rounds of Project Mangers Meetings
Two rounds of Quality Board Meetings
Two rounds of Finance Officers Meetings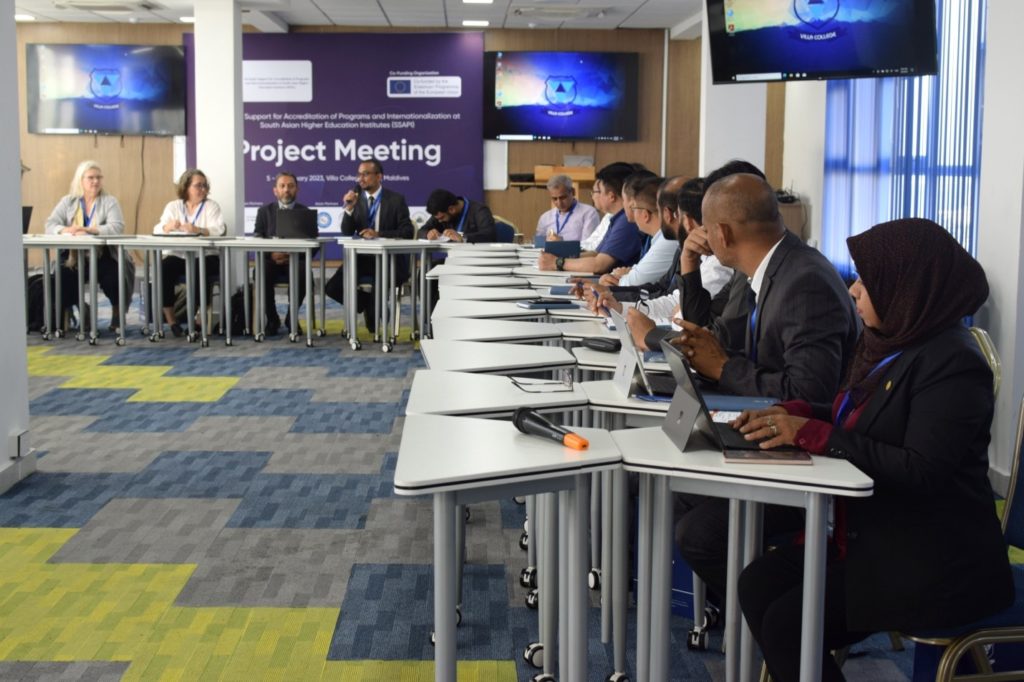 Outcome of the Meeting
The following are the outcomes of the Project Meeting:
Finalized and submitted the first year Project Progress Report to the Project Officer, European Union.
Finalized and submitted first year Financial Statement Report to the Project Officer, European Union.
Reviewed the Quality Plan of the Project.
Scheduled the activities to carried out in the project year 2023 to 2024.
Exchanged of best practices for accreditation and internationalization through knowledge sharing sessions by the respective Universities.
Experienced the educational facilities of two host Universities and guided tour of City of Male, Hulhumale and Himmafushi Island.